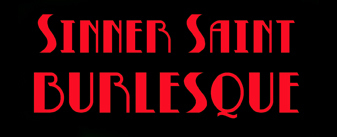 Every Thursday @ 9:00 - Noc Noc - 1516 2nd Ave. Seattle Wa
With bawdy burlesque and show-stopping song & dance numbers, Sinner Saint Burlesque is up to its tassels in talent and charm! Beautiful burlesque starlets and local comedians with a streak for blue humor come together for a fantastically entertaining show.
Founded in June of 2006, Sinner Saint Burlesque is Seattle's longest running weekly show and performs every Thursday night at Club Noc Noc, as well as regularly in northwest nightclubs and theaters. Sinner Saint also provides a wide range of entertainment for private events, fundraisers and festivals throughout the West Coast and Canada.
The current cast features founding member Evilyn Sin Claire, as well as Polly Wood, Lady Ta Tas, Jesse Belle-Jones and Doña Dei Cuori.
Described as "Show Stoppers" by MSNBC, Sinner Saint has also appeared in music videos and was featured on ABC's television show "Wife Swap".
To book one or all of the members of Sinner Saint Burlesque contact: info@sinnersaintburlesque.com
Feedback: feedback@sinnersaintburlesque.com