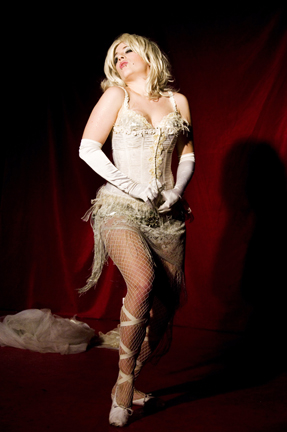 Evilyn Sin Claire

Evilyn Sin Claire brings mouthwatering magnetism to cabarets all around the Northwest. Sinner Saint Burlesque's "Wild Child" is popular for her sultry, sensual and sometimes downright dangerous portrayal of the femme fatale, but this wild red head cooks up more than just ferocious fare. From Miss Piggy to Le Petit Mort, debutante to dumpling, Evilyn brings a unique character to each professionally choreographed and beautifully costumed act. She dabbles in a little of everything; comedy, classic, political, theatrical, sexy, rambunctious, and avant garde. She loves working with themes, and can be seen regularly with the performance troupe's Sinner Saint Burlesque and Get Loweded. She also performs regularly at The Pink Door and El Gaucho's Pampas Room, fairly often with Pure Cirkus/4 Horsemen Productions and has been featured annually in Seattle Moisture Festival. Please see her Calendar for showtimes.

Evilyn was born in 2003, coming up second in a burlesque contest at the now closed olde time Seattle saloon, Doc Maynard's, for Glitzkrieg Burlesque. She was quickly snatched up by Burning Hearts Burlesque, where she spent a year honing her skill with them, performing themed shows at The Rendevous Jewelbox Theater and at rock shows. From 2005 - 2006, Burning Hearts Burlesque found a home at the Fenix Underground (now closed) and hosted the most popular weekly burlesque show in Seattle, The Bedroom Club, every Thursday night. These were formative years for young Evilyn and she met many fellow burlesquers she's watched grow into fantastic performers today.

Sinner Saint Burlesque
In 2006, Evilyn along with Sydni Deveraux, Inga Ingenue, Dane Ballard, Ravenna Black, and Georgia Miles branched off to start Sinner Saint Burlesque. Under the production of Dane Ballard, the troupe has also featured as members Pheobe Applebottom, Belle Cozette, The Shanghai Pearl, and Valerie Vales. Sinner Saint is proud to be running Seattle's longest continual weekly show at the Noc Noc in downtown Seattle. This intensive troupe works year round and rehearses every week to bring weekly song, dance, bump, grind, group acts, solos, duets all within 4 - 7 week themed runs.

Sinner Saint Burlesque and Dane Ballard also created Kamikaze burlesque, a special night of improv striptease (by trained professionals) where our fans and audience choose the music and performers don't know the song til they hit the stage!
Today, the face of Sinner Saint Burlesque is entirely different, with Evilyn being the only founding member still involved. You can see the current line up, under producer Audrey McManus here .
CLICK HERE FOR CALENDAR OF PERFORMANCES
Get Loweded

In the fall of 2008, Chas Roberts, also known as Jackson Lowe of the Lowelives and Seattle Semipro Wrestling, invited Evilyn to be the featured cast burlesque dancer in a monthly comedy and variety show he produced, Get Loweded. This bizarre and unique world of performance art was a drinking themed variety show featuring audience participation in prizes and games and set in its own universe. Written by Chas and a team of comics including Emmett Montgomery and Danielle Radford, this show within a show put its cast, characters and audience into different worlds were together they fight the good fight, watch top notch performers and entertainment from around the Northwest, and of course, drink.
Evilyn's first year with them was a run set in the post apocalyptic future. While her other burlesque troupe, Sinner Saint Burlesque, underwent some tumultuous changes, Evilyn's love for burlesque was kept afloat by the fountain of creativity this show and its cast supported her with. Evilyn creates unique acts for almost every Get Loweded for only this show, but some of her strongest, most extreme and most poignant work has come out of it. One of which was her "Black Metal" act in which Evilyn becomes completely possessed by the spirit of METAL (this act was also special requested for a live taping of comic, Derek Sheen). This show saw the creation of Evilyn's most controversial act to date, a performance work in solidarity with the young women protesting in Iran, feeling unheard in the 2009 elections, and women everywhere who feel their voice is silenced while their body is corrupted by whatever culture it may find itself expressed in. This act was featured in 2010's production "That's Fucked Up", by Heidi Von Haught and Randi Rascal at Theater Off Jackson. Get Loweded concluded in summer 2010, and Evilyn is so greatful for her years with this show.
The Porcelain Promenade
In early 2010, Evilyn Sin Claire joined forces with Belle Cozette to create their piece de resistance for the 2010 Moisture Festival. Over the course of the next two months, they fully encrusted two real toilets with rhinestones and developed in infamous Porcelain Promenade. From the Porcelain Promenade facebook page:
"The stage is dark. The soothing sounds of a waltz begin to delight the ear. Lights raise softly and two elegant women is shimmering dressing gowns glide onto the stage. But what is it they are dancing with? Why, it's glittering, rhinestoned thrones they waltz with. Or is it? As the lights come full on, and the fine ladies spin and twirl towards the audience, we see the truth...their dancing partners are bejeweled commodes.
As the piece progresses we see Belle and Evilyn personify ladies' bathroom rituals in elegant fashion and synchronized dance. Both graceful and comical, highlights will include powder puffing in time with the waltz, synchronized "chair" work, and bath tissue re-imagined as gymnastics ribbon...and of course, striptease. We aim to highlight the beauty of the role of basic bodily functions as women. Our fears, our triumphs, our private lives in our porcelain palace brought to the stage."
This piece was exhibited at the Act Theater for 2010's Moisture Festival Libertease shows, 4 Horsemen's "Sin On Heels" at the Triple Door, and at the Burlesque Hall of Fame convention opening night gala in Las Vegas, NV. The act is available for booking. Please contact beamismansfield@gmail.com for info.

TODAY Evilyn can be seen *almost* every Thursday at the Noc Noc, regularly at The Pink Door Burlesque Cabaret. She also performs fairly often with Pure Cirkus/4 Horsemen Productions and has been featured annually in Seattle Moisture Festival. Evilyn teaches belly dance and theatrical dance under the name Laura Rose at Visionary Dance Productions (www.visionarydance.com). She also serves on the BurlyCon steering commitee and was featured in classes and on panels in 2008/2009. Please see her calendar for other bookings, appearances, workshops and classes.